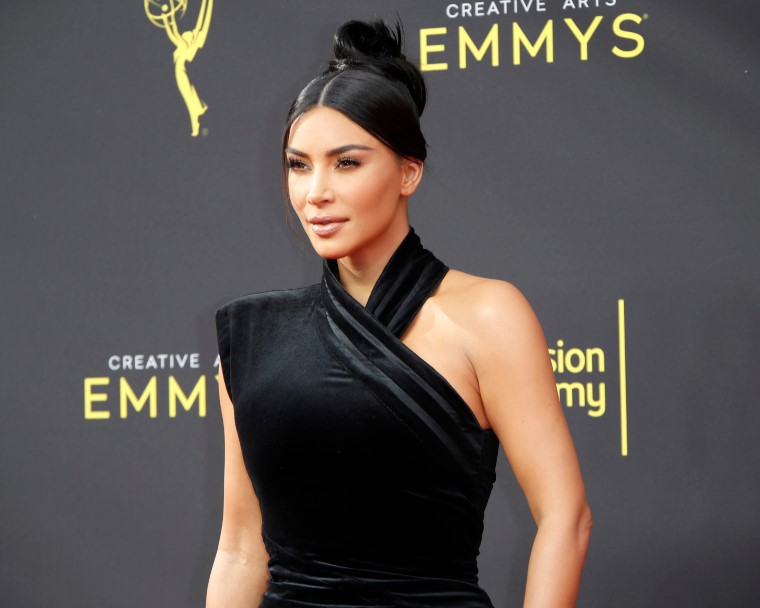 14 May 2022
Dr Masood Ansari
With an eventful awards season recently coming to a close, we've witnessed the highs, lows and the downright bizarre. From THAT slap, to Nicole Kidman looking flawless in Armani Prive or Selena Gomez (in perhaps her best red-carpet look ever) slipping at the SAG awards and then presenting barefoot. It's safe to say that celebs have been even more in the limelight than usual over the last few weeks. But have you ever wondered how many of those A-list celebs get that red carpet glow?
RF Treatment's Celebrity Fans
Radiofrequency treatments have been around for quite some time now, but have significantly evolved since their introduction about 20 years ago. These days a number of celebs including the likes of Kim Kardashian, David Beckham and Anna Kendrick are raving about the treatment and the results they're achieving from it.
Kim Kardashian told her fans that her skin feels "lifted" after the tightening treatment and Becks told Heat Magazine that both he and Victoria love ENDYMED RF treatments and prefer them to any others. Other celebs like actress Kate Bosworth, former Playboy model Kendra Wilkinson, and Victoria's Secret Angel Josephine Skriver have posted themselves getting the treatment on their social media. It's safe to say that ENDYMED RF treatments are what's hot right now.
What The Celebs Are Saying About The Treatment
From actresses to sports stars, to models and influencers, all of the celebs who've tried the treatment have been praising both how it feels and the results it achieves. Here's what they're saying: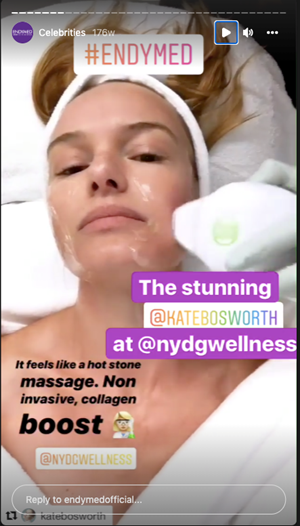 Actress Kate Bosworth
"It actually feels really good. I like the heat, the cool with the heat. It feels like a hot stone massage."
Victoria Beckham
"Supercharging my facial with some radiofrequency collagen boosting."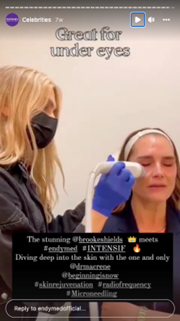 Brooke Shields
"I'm a complete convert!"
Kendra Wilkinson
"You can see a difference already!"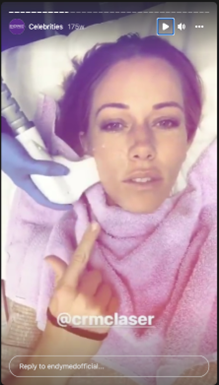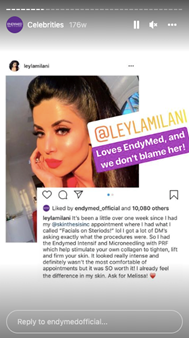 Canadian model Leyla Milani
A week after having the treatment – "SO worth it! I already feel the difference in my skin."
But Why Do Celebs Love it?
The treatment itself provides you with a number of benefits, like reducing acne scarring, deep wrinkles and trauma scars and improving skin texture, tone and treating sun damage, just to name just a few. But unlike most other treatments, it's completely non-invasive which means there's little to no downtime after having the procedure and even though the results take time to be seen fully, some can be seen immediately.
How Exactly Does It Work?
Here's the technical part! The handheld machine used to carry out the treatment, emits radiofrequency waves deep into the skin, targeting multiple layers at the same time. The energy is transferred into the deep layers of skin, gradually heating them (not that you'll really feel it).
This in turn triggers the natural production of collagen which results in improved skin structure and a firmer, healthier, more youthful-looking appearance. The even better news is that it continues to promote collagen production over the next 4 to 6 weeks following the treatment, so you'll see the results improve even more as time goes on.
The 3DEEP Technology used by ENDYMED both aesthetically improves and tightens your skin, while still maintaining that natural look. So you can understand why both male and female stars alike are loving this revolutionary treatment.
But When Will You See Results?
Straight after your first treatment, you'll start noticing an effect because the collagen fibres in your skin tighten as a result of the heat. For the best results though most people (including our previously mentioned celebs), choose to have at least a few sessions as the resurfacing technology works cumulatively. So each application builds on the previous treatments to create a greater tightening effect each time.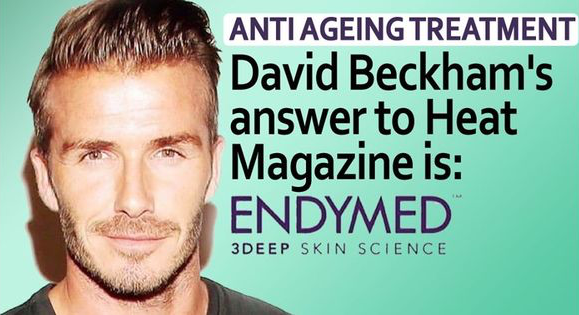 But Treatment Probably Costs A Fortune RIght?
Wrong! As if there weren't enough reasons already to try this popular treatment, the icing on the cake is that it's also really affordable. In the years gone by you would've had to part with around $3000 for the experience, but these days you can get a single treatment for as little as $399! So what are you waiting for?
Book your free consultation today and start your journey to celeb worthy, rejuvenated, younger-looking skin.